Do you have salon customers you love?
You know… the customers who do all the ideal things. The ones you enjoy seeing and they look after their hair.
They turn up on time, purchase take-home products and have the services their hair needs.
Most importantly the relationship is solid. They are loyal. They respect and trust you.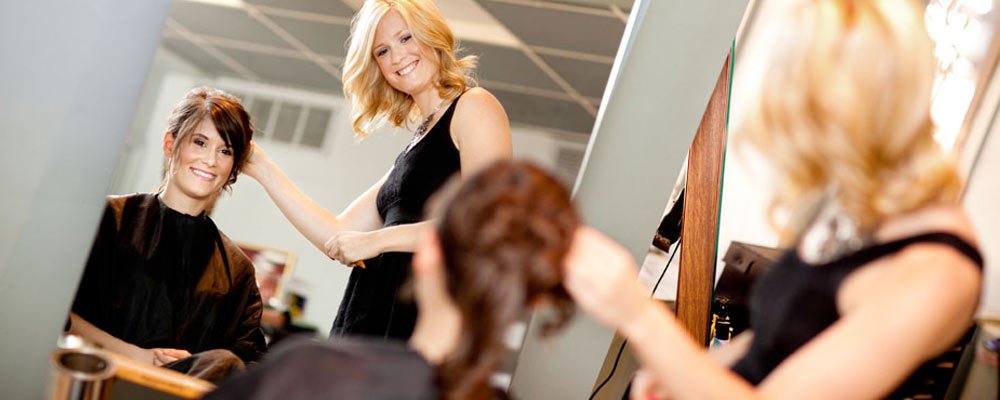 We would all love a salon full of perfect customers.
But remember… most customers would also love a perfect salon.
Even after numerous visits, a seemingly happy customer can go elsewhere.
WHY you scream!
When you feel you have done everything right.
See below for the biggest reasons your salon clients leave… and then learn more about what you can do in your salon to attract the ideal customers for your business and keep them for life.
Building your business around your ideal salon customer is a crucial element for salon success.
---
The number one reason customers leave a salon, or any business for that matter, is Inconsistency.
---
Here's a story…
Only today a stylist was bemoaning the inconsistency at a local restaurant… the food, the service, even how at various visits the same meal was served totally differently. 'It's frustrating!!'
Too true. Who wants spicy sauce or sour cream sometimes… but not at others… on your nachos!
Point is, people get used to a level of salon service and come to expect it… even if it is a value add-on.
Hot towels one visit and not the next, massage with a condition then next time a rushed shampoo, no latest mags, drinks not offered because the reception team forgot and that's not even considering the hair service!
People notice these things and it can be the difference between rebooking or a cancellation.
Be consistent
No excuses!!
Is this too hard to manage with changing team members and salon situations?
The answer is in the training and framework of your organisation.
When you are writing out your procedures manual, make sure everything is covered from the moment a client makes an appointment, to the follow-up afterwards. Step by step.
Get it documented and train your staff to do it. Give them a reason why it's important and watch the rebookings roll in.
We know… some stylists can be forgetful and lazy and question whether it is important. Remember it's your salon and to keep customers, you must ensure consistency. So make it a priority.
When you show up as an individual stylist or salon with the best intention to serve at your highest, you will attract customers that behave in the same way back to you.
Consistency in any relationship is the key to trust and developing that needs to be a priority.
Poor Service
This is basic. If you are not meeting expectations then the customers will walk.
You can't oversell and under deliver if you want your customers to stay. Be realistic but also raise your standards and get educated so you can deliver top service to your customers.
Visit other businesses you admire and want to aspire to. Take the team out and let them experience what great customer service feels like.
Bad Workmanship
Get some training if your team are not performing. There is no excuse for lazy, badly executed work.
If your team need experience, get training. Use everything the internet can offer, get support from your product companies and bring models in. Build your teams confidence and you will reap the rewards.
Uninspired Hairdressing
Customers want your professional opinion. They want you to suggest new things and communicate with them. Never ever say… 'Same again?'. Take time with each customer before a shampoo and ask how it was last time.
Are your stylists just being lazy or are they time pressured?
Do they need support to refresh their consultations?
Read our blog about how to build salon customers here. It's an excellent resource for all salon managers, owners and stylists.
We also have an Effective Customer Communication Guide which outlines the 5Cs for consultation success. Get your 3 Steps to Designing Services That Sell and access the guide here…
Attracting Ideal Customers
Customers you actually enjoy working with!
That's novel… but totally achievable.
If your business is attracting the wrong kind of customers, no matter how good you are, if it's a miss-match, they won't stay and you won't want them to.
Your advertising and marketing are a waste of your time and money.
There are a number of key elements in attracting the kind of customer you want to serve and it is extremely wise to spend time on this.
If you are a new business it should be step one in your business framework. Ask yourself 'Who do we want to serve?'
More established businesses that are struggling will have probably had the philosophy that they will do anyone as they need the bookings, and ended up with a demanding customer base that price push, have no respect and trust and want to contact you all day everyday!!
---
Hello Business Hell Hole!!
---
It's not uncommon.
Here you thought you were providing a lifestyle for yourself and you have created a monster that drains your energy and gives you none of the freedom you desire.
Is Your Branding Off?
How long has it been since you updated your branding? Do you spend much time developing a brand strategy?
Brands are everything now. Whether you pay for a pro or do it 'Canva style' yourself, your branding is crucial to how you attract and keep customers.
Send your message confidently to the world… your values and culture, how your business operates, what your message is and what a customer can expect.
Salons often think it is their pricing that put customers off, but that is not true. If your branding is on point your new customers will know what to expect.
New customers don't know you and if your branding isn't aligned with reality, then they won't come back.
Images, social media postings, website design and printed material, it all portrays you and your business.
Do you have a well thought out logo that works well across all mediums? Are your platforms all congruent… colours, fonts, images?
Is your style unique and projects what your salon is about and what a customer can expect.
Get your copy of our Branding Checklist. Join the Social Hub and access your copy here…
---
It's the story told by branding that gives the customer an expectation.
---
Retaining Customers
If customers are leaving because they are not happy, then the points above should help you address the issues.
If your customers are leaving because a stylist has lured them when they left to another salon… then that is another matter.
Stylists will always try to take their customers to a new salon and of course this is bad for business.
Consider these points to limit this happening.
Promote a team atmosphere and encourage rotating the clients when stylists are on leave or as they get promoted through the salon.
A good team atmosphere can be encouraged by setting team goals, training together and team related pay bonuses.
Employment contracts that outline who owns the client data.
Make sure you include a non-compete clause. Note: most courts will throw out the agreement if it is too restrictive. An example of this would be to say the employee is barred from working within a 10-mile radius. A court might think this to restrictive so you might want to consider say 5 miles. Talk to your lawyer about this.
Can you restrict access to the customer data? In the employment contract, outline that customers personal information private and not for sharing. Make a policy about staff friending customers on social media.
Monitor your salon for theft of data.
Create an exceptional salon atmosphere. If you want to stand out from the competition, you must treat every client as if it was their first visit and set yourself apart from the salon that points to a chair and says you can sit there.
Have you considered memberships? This is a way to keep the customer coming back to you, not the stylist. They sign a contract for a period of time for a set kind of service.
Here is an example: cut, colour and style membership for $149.99 per month for 12 months, so they join and you are guaranteed monthly payments for one year. They are not going to follow a stylist because they are under contract with the salon. The client uses it just like a gym membership and has unlimited services. The front desk is trained to move the client around, which creates teamwork.
Client experience has nothing to do with pricing or quality of work. Client experience is when you make that client feel like they are the most important person in the world. Be unique, consistent & treat every client as if they were the last you would ever get.
If you want to Increase Your Salon Revenue and Profitability
Get your copy of my 3 Steps to Designing Services That Sell
There is a Money Mindset Guide to help you create the abundance mindset you need for success, a Profitability Calculator so you can understand the numbers that affect your profits, revenue and salon success, and an Effective Customer Communication Guide so you can learn the 5Cs for consultation success.